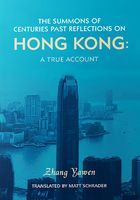 第17章
The chief representative on the Chinese side was the 47 year-old deputy director of the Hong Kong and Macau Affairs Office, Chen Zuo'er. Chen was of average build, with a mild, bookish air. But at the negotiations table, he would eventually end up earning the deion by a British cabinet minister as "our most difficult counterpart to handle, but also the one with whom we struck the most deals." The head representative on the British side was Andrew Burns, Assistant Undersecretary of State for Asia, a tall, well-built diplomat with an arrogant bearing.
When Chen Zuo'er and his team, all brimming with confidence, took their seats at the negotiating table, they saw, written on the smooth, well cared-for face of Burns an overbearing arrogance. His hands fiddled constantly with a thick pencil, "Diaoyutai State Guesthouse" written on it in golden Chinese characters, and his yellow-greenish eyes, hidden behind a pair of wide-rimmed glasses, carried a disdainful expression. The first words out of his mouth were to say that the current negotiations were merely to "inform the Chinese side" . If there were any questions, the British were willing to explain. When Chen Zuo'er said that China wished to participate in the "trans-handover" projects, his counterpart responded with resounding "No!" s.
Out of goodwill, Chen Zuo'er reminded his counterpart Burns several times of his hope that the British could approach the negotiations with a spirit of genuine cooperation. But not only did Burns make no attempt to restrain himself, but he repeatedly struck the table, the "thwap" sound reverberating throughout the conference room. Chen had no choice but to give as good as he got, saying to Burns in a stern voice, "Mr. Burns, please show some respect for the principles of diplomacy. And please show some respect for the dignity of people on both sides of these negotiations!"
The Sino-British negotiations spent four days in a surpassingly unhappy deadlock. The British evinced no concept of time. No matter what time the negotiations were supposed to begin, they arrived late with naught but a shrug, and few to no apologies.
On the afternoon of April 11th, Burns walked into the negotiating room and said, "Tomorrow I'll be returning to Britain. My ticket is already booked. We need to wrap things up this afternoon."
The entire afternoon was spent in a stalemate. When time was up, Burns snapped his file folder closed and stood up, saying, "Well then, tomorrow I'll be leaving. If anything comes up, feel free to give me a call."
Chen Zuo'er likewise stood up, replying to Burns, "Have a good trip. I won't be calling you. If anything comes up, you can reach me by calling the Chinese foreign ministry."
In truth, Chen was anxious. It was the first time negotiations he led had ever gone off the rails. He thought he had failed to live up to the great trust his country had placed in him. That same night, he made his way to Lu Ping's house to deliver a report to his chief.
Lu Ping consoled him, saying, "Don't worry about it. If [the negotiations] broke down, then they broke down. The point is we need to stand firm." He then added, "Let's see what tomorrow brings."
Chen transferred to the Hong Kong and Macau Affairs Office in 1987. Owing to his outstanding work running the Fujian office of the China News Service, and the Hong Kong and Taiwan news department at China News Service headquarters, he was in demand at a number of government departments. He chose the Hong Kong and Macau Affairs Office specifically because of his desire to be a part of Hong Kong's return to China. The office's senior staff thought highly of him, as he was eloquent both in speech and writing, and careful in his thinking. A member of the China Writers' Association, he had published several books. Regardless of past experience, however, this was still his first time acting as the chief representative in a negotiation.
By the time Chen had returned to his home in Beijing's northwest Haidian district it was the dead of night, and the elevators in his building were no longer running. As he fumbled his way up the stairs and fished out his key to open his apartment door, he found his old, grey-haired father—who had long ago succumbed to dementia—sitting bent over on the living room sofa, waiting up for his son like in days gone by.
As soon as he saw Chen come in, his father's dim old eyes took on a kindly air, and he listened, dignified and serene, as his son asked him, "Dad, why aren't you asleep?" His father broke into a grin, and repeated in his hoarse, friendly voice his daily exhortation to Chen: "Britain is a sly old fox. You need to be careful!" 张雅文
作家的话