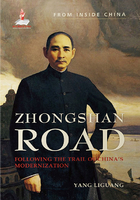 第4章 Prologue(4)
Unable to bear the restrictions of "ancient" cities, Chinese returning from America, Singapore and Hong Kong selected a region of close proximity to inner port Macao to begin construction of a new port. Wide and open roads, tidy drainage systems, pretty shop-fronts, monasteries, police stations, fire stations, waterworks, libraries, parks, a commercial bureau, a tram rail, electricity and fuel gas, hospitals, schools, theaters, houses with gardens, motorboat and steamboat operating lines—and a free trade port. Everything was set out,—all according to plan.[2]
Unfortunately, the morning sun never lasts a day. Despite the Qing Emperor Xuantong issuing an imperial order to recognize Xiangzhou as a free trade port, constitutional issues presented themselves at every turn in its implementation. "Tax-free" was simply anempty promise that could never be delivered. On top of that, Zhang Renjun's successor believed that Xiangzhou was far too small to ever compete with Hong Kong as a viable trade port and had no desire to develop the port of free trade, leading to the eventual dissipation of overseas investment.
In the modern age, opening to the world has been the dream of China, the dream of Guangdong and the dream of Xiangshan. Sun Yat-sen put forth an important ideology in his "A Plan for Building a Nation" : "Invest in an open China, and develop China's industry."
Zheng Guanying and his fellow reformists' Xiangzhou Economic Port had met its premature fate, but Xiangshan's push toward globalization had anything but come to a halt. Twenty years later, Cabinet Minister of the first parliament of the Republic of China Tang Shaoyi once again started a new phase in the "opening up" experiment.
Born in Tangjia Bay, Xiangshan County, Tang Shaoyi was somewhat of a legend in modern China's political circle. His uncle Tang Tingshu had an instrumental role in the late Qing Westernization Movement, and had an obvious influence on his ideological views. He was a loyal follower of Sun Yat-sen for many years to come, their acquaintance becoming one of deep emotion. In 1925, under the direction of his proposal, Xiangshan County was renamed Zhongshan County.
In February 1929, the National Affairs Meeting of the Nanjing government named Zhongshan a model county affiliated directly to the central government. Tang Shaoyi founded this model region and as a central government committee member, he took the post of chairman of the Administering Committee of Zhongshan County, and in 1931, he once again became county magistrate of Zhongshan. Under his guidance, Zhongshan once again became a tax-free trade port, this time selecting his hometown Tangjia Bay as the location for port construction.
He reported frequently to the Nanjing central government, stressing the importance of the Tangjia Bay construction effort. After countless pleas, in May 1930 Nanjing made the following formal announcement: "Tangjia Bay of Zhongshan County will henceforth be a tax-free trade port, for a period of 60 years, to be named the Zhongshan Port, to be administrated by Zhongshan County's Administering Committee." This relinquished much of the administrative and financial power and freedom from the central government to the Zhongshan Administration.
After a year of planning and preparations, in December 1931 Tang Shaoyi signed a contract with a Dutch harbor administration company. The contract promised the construction of two wharfs, a typhoon shelter, a breakwater, and a 50-sq-m signal platform, and the opening of roads. Upon completion, Zhongshan would become a directly accessible international port, and a viable competitor to Hong Kong as an economic center.
However, "just as the Zhongshan port construction entered a critical stage, in October 1934 Tang Shaoyi stood down from his post in the face of a mutiny arising from the so-called payment demands. The development of Zhongshan County and the Zhongshan Port came to a halt, the anticipated tax-free trade port set aside, the voices of reform going into hiding, a project nobody would dare endeavor again." [3]
From the late Qing to the Republic before 1949; from Xiangshan to Zhongshan; from the early reformists Zheng Guanying and Wang Shen, to the faithful revolutionist Tang Shaoyi—two great experiments and two ambitious endeavors met their fate at the hands of political complication. Whether an entire nation or simply a region, these two attempts and their subsequent failures are evidence that without a clear and liberal society to rely on, and without a civilized government to provide assurance, any economic reform would end in failure—no matter how grand, no matter how inspired, no matter how enthusiastic. The failures of Xiangshan and Zhongshan are in essence failures of modern China, and a reflection of the challenges China faced on the road to modernization.
As a sign of respect to Sun Yat-sen, I began my series of interviews nearby the Sun Yat-sen Memorial in the city's old town district. There is no comparison in size, fame or even historical value of this memorial to the original memorial on the site of the former President's office, but it captures the deep appreciation and admiration for Sun Yat-sen in his hometown.
Not far from the Sun Yat-sen Memorial lies the historic Sunwen Road. After the 1925 passing of Sun Yat-sen, roads named in honor of Sun Yat-sen simultaneously popped up across all of China—while the Sunwen Road of Xiangshan was still steadily making its way to completion. This road of late Ming Dynasty's industrial development witnessed not only the drastic progress of Xiangshan, but the political ups and downs between the Qing and the Republic. 杨黎光
作家的话