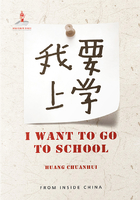 第13章 The Yearning Look(5)
At the beginning of September in 1990, I went to conduct an interview in Shaanxi and I wanted to visit Qin Yuanxiang. However, a heavy rain led to the collapse of the road toward Zhen'an. So I decided to go to Ansai in the north of Shaanxi.
In the Zhongzuimao Village in Ansai County, for the first time, I had seen a primary school in a cave. One mud cave dwelling was filled with fourteen children.
It was just in the afternoon when the sunshine was particularly brilliant. Nevertheless, standing in the cave, I felt so dim and dusky. I imagined that in cloudy or rainy days and without electricity, how could the children see clearly what was on the blackboard?
According to the introduction of the head of this village, there were eighteen families with nighty-eight people in total and 507 mu dry land. Everyone's lives depended on the weather. If it didn't rain, people would be short of grains for several months.
The teacher here was called Xu Ping who started to teach since 1970s and he was an old Minban teacher. At that time, his salary was fifty-eight yuan. However, it was the number in theory. In fact, it would be great if he could get half of the salary. Xu Ping told me that there had been a primary school in the village, but since the cave collapsed and no proper classrooms were found, the school had stopped for five years. All the children had no school to go. In the second half of last year, this old cave was borrowed from some villagers and then the school resumed.
I asked the head of this village, "Has every student come?"
He answered quickly, "Yes, 100 percent yes."
A hundred percent! As we all knew, the north of Shaanxi was poor. But beyond expectation, the enrollment rate here was so high.
Just as we left the entrance of the village, one girl, about eleven or twelve years old, was coming from the slope with a bundle of firewood on her back.
I walked forward and asked, "Hi, why don't you go to school?"
The girl was a little shy and lowered her head.
The head of the village who was standing beside me looked embarrassed and anxiously explained, "This girl has a hard fate. Her father became paralyzed last year and she has to help at home."
In the evening, in my guesthouse, someone told me: Today, you went to the village accompanied by officials from the township government and the county government. Under these officials' noses, how dare the head of village tell you the truth? So don't believe in such information next time.
We went to the Baijiagou Village on the second day. The chairman of this township was informed that I came from Beijing. So he insisted on accompanying me along. It was difficult to refuse such kindness and I had to "when in Rome, do as Romans do" .
It was also a village with fifty-five families scattered in a mountain valley. The village primary school was merely equipped with one teacher and two cave houses. There were more than twenty students from Grade One to Grade Four.
Li Yulin, the head of this village said, "These two cave houses have a history of more than twenty years. They were built for seven educated youth from Beijing coming here to devote to the agricultural production and construction of the countryside in the past. One educated female youth named Li Qiuying once taught in the village and I was her student at that time."
I asked him to take me to one or two families in hardship.
Li Yulin took us to Hu Shengfu's house. Hu was fifty-two years old but looked like an old man of sixty or seventy years old. His eyes were red and swollen and he needed to wink hard every time so of en.
When he saw so many people, Hu Shengfu looked so nervous that he felt uneasy and couldn't decide whether to sit or stand. He didn't know where to put his hands.
The county chairman said, "Don't be nervous, Hu. They come from Beijing to pay a casual visit."
Hearing that I was from Beijing, he looked even more anxious and tried to boil some water for us, which was stopped by us. Suddenly he wanted to piss outside.
After a moment, he came from outside and became a little calmer.
The chairman of the Youth League Committee told me that Hu asked the village head whether or not we were in charge of "one child policy" affairs and whether he could answer any question we raised.
Hu Shengfu's family had five people. Last year they harvested 1,500 jin grains and except for the income that came from a pig they had no other income. Just for his illness they spent more than 200 yuan last year and they still owed a debt of 500 yuan then. His second daughter Hu Haili who had a three-year education, stopped two years ago and his youngest son, who was eight years old was just staying at home.
Hu Shengfu was wearing a long face, "I know the benefit of education, but I don't have money. Even if I want them to go to school, I cannot afford that."
Hu Haili stood outside the window, staring at us with alarm. She was wondering what happened to her family.
On leaving, Hu Shengfu pulled my hand and said, "I am wrong that I don't send my children to school. If next year we could harvest more grains, I promise I would let them go to school."
What else could I say? From the bottom of my heart, I could only say and hope that they will have a good harvest!
Once again walking along Yanhe River, we walked slowly, watching the muddy yellow water flowing from our feet slowly.
The loess was silent.
The plateau was silent.
The life was silent.
A solemn and stirring, bold and unconstrained Xintianyou[7] was coming near:
The red sun shines half of the mountain;
Life is no harder than that of the farmers;
They make a living from blood and sweat;
Bitter, sweet, mingling with each other…
The Xintianyou climbed out of the mountain valley and the mountain top, hanging in the sky for a long time, spreading everywhere with the northwest wind…
Interview Notes IV
Every Morning in the Taihang Mountain
We couldn't see any greenness since the wind was terribly severe.
In the early winter, I went to Wanxian County at the eastern foot of Taihang Mountain. It is only 200 li from Beijing. However, here is a totally different world. 黄传会
作家的话